Date: 05/27/2005

Dear NuFoot,

I wanted to take the time to tell you how happy I am with your NuFoot product. Up until now, my Morgan horse has always been prone to fungal infections of the skin - particularly during damp weather. It was nearly impossible to manage these infections until I found NuFoot. While it's intended to discourage fungal infections of the foot, I have found it to be

very effective at eliminating fungal infections of the skin. My horse's skin has since cleared up and his coat has never looked better. I wouldn't think twice about recommending it to my friends and family.

Thank you for such a great product,

Susan from Connecticut
---
Date: 2004/03/19 Fri AM 08:06:08 EST
To: <farrier_science_clinic@fuse.net> Subject: Idaho Supplier?
Hello,
My Aunt lives in Priest River, Idaho. Do you have a distributor near her? If the feed store she goes to wants to get your product, how do they go about doing that?
One more question, what is the dose for a miniature horse? Would it be 1 scoop per day?
Thank you for your help! My horse is doing great since I have had her on the Nu-Foot. She has foundered quite a few times, but the hoof is growing nice and she doesn't get sores on her feet any more!
Hope to hear back from you soon.
Idaho
---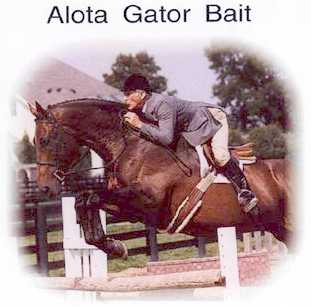 Dear Bob,
We wanted to update you and thank you for your help with our Stallion "Alota Gator Bait". After your visit and your recommendation not to do extensive hoof wall resections we came up with a plan to follow whenever the white line disease flares up.
We no longer do the hoof wall resections. We simply tap on the hoof wall above the suspicious areas and if a hollow sound is heard we drill a small hole with a dremel tool. The hole can be enlarged as needed so that we can keep the area cleaned out and Fungidye applied daily with a small syringe and needle. We also have kept him on "Nu-Foot" Vet Formula feed supplement.
Using this method and your products we are able to continue his training and standing him to a full book of 67 mates. He is jumping now and we are preparing him for a show career. We feel had it not been for your help and products we would have never have gotten him this far. Thanks so much for your help.
Sincerely,
Mike and Laura
Dr. and Mrs Mickael Kline
---
Oct. 26, 2001
Mr. Bob Peacock,
I love the "Nu-Foot Vet Formula" for my paint mare. I am on my 2nd jug and my farrier says her hooves are very healthy. We should have had before and after pictures. She held shoes for 6 1/2 weeks which is great for her. When she did throw a shoe it was due to her running, bucking, turning, and having a good time in the pasture. This running is something else that is the result of "Nu-Foot". She would not go over a slow trot due to sore, tender hooves. When her shoe came off, it came off clean, no hoof tearage. I was so tickled with that. That mare has strong, healthy hooves with no shellyness or brittleness.
I pasture both my mares together and grain them separately but the same feed. However the Quarter horse mare does not get "Nu-Foot" due to my farrier saying she did not need a hoof supplement. Well now, he says my paint mare's hooves are so much healthier. The Q.H. mare is now on "Nu-Foot" also. I am completely convinced this product works! I had tried 3 others and did not see any results. "Nu-Foot" Works! It is the product I am staying with and have and will continue telling others about this great hoof supplement.
Thank You,
Pendleton, Ky.
---
Summer 2000
Dear Mr. Peacock,
You asked me to let you know how my donkey Jake was doing. Amazing is the word! Only 3 weeks on your products after 5 weeks previously of pain and lameness the animal is 100% CURED! Farrier trimmed twice now, said what ever I was doing "KEEP IT UP". He is going to recommend your "Cure". I can't get over, foundered bad in both front feet, cavities dug out by the blacksmith, boy are those filling in fast! Had Jake on 1/2 gram of Bute every 12 hours. No need for that anymore.
Thank You!
Judy
---
Spring 2000
Just want to let you all know how happy I am with your product. I put my foundered mare on your product 1 1/2 yrs ago. She foundered and had a club foot. We needed to get maximum growth to help her. In just five months I saw growth that the farrier couldn't believe. I chose your product because of the Anti-Fungus statement.
My mare, Koko, is trimmed every three weeks now. We are trying to prevent cutting her Deep Digital Tendon and have been working on this since Jan 15, 2000. She grows 1/2 inch of heal every three weeks. The farrier is very happy with the results of using your product.
I talk about your product to everyone that I know. They have all said that they don't get this kind of hoof growth on other products.
I can say that I have never had an abcess with your product. I started using your product October of 1998 and we have never had an abcess since.
Thank you for this product I am very happy with the results that my mare has with hoof growth.
---
Fall 1999
Dear Bob Peacock:
I congratulate you and your team on developing such a great product! I am a farrier in Florida and see a good share of "White Line Disease" and general environmentally ravaged hooves. One particular case was a filly that I did a wall resection on. The wall was removed from quarter to quarter and up to one half inch from the coronary band! I fashioned a gooseneck type shoe to support her and talked the owner into purchasing your NUFOOT. Just 16 weeks later the filly had grown a new foot!! I have never seen such phenomenal growth! Your product was the only thing that had changed in the filly's care. She was still turned out. Fed the same feed and hay. She was not started on a regulated exercise program until after her hoof had grown back. I will continue to brag on your product. Several of my other clients are using it now also and they are very pleased with the results. Thank you also for the comparison chart. It is helpful when showing folks how other products are often measured by the pound not the ounce.
Thank YOU,
Kim Hillegas
Feet First Farrier Service
PO BOX 452
Oak Hill, FL 32759
---
August 11, 1996
To Whom It May Concern:
For the last several years I have used the Nu-foot feed supplement as well as FungiDye. The Nu-foot feed supplement has proved to me to be quite useful as an aid in the treatment of numerous hoof related problems. With the addition of this supplement to a horse's diet there is a significant increase in rate of hoof wall growth as well as increases in overall hoof wall quality. This has been very helpful in the treatment of any hoof disease that results in weak slow growing horn as well as injuries where increased rate of growth will minimize the recovery period.
FungiDye is a great aid in the topical treatment of various hoof diseases and injuries, as well as an aid in the prevention and treatment of onychomycosis. This product is quite effective in the treatment of thrush, canker, scratches, as well as aiding in the prevention of proud flesh in hoof wall avulsion injuries. In conjunction with the Nu-foot feed supplement, FungiDye is a winning combination in the prevention of onychomycosis as well as promoting a healthy, strong foot.
Sincerely,
Jonathan L. Cohen, DVM
---
March 31, 1997
To Whom It May Concern:
I am a veterinarian who has been involved in the development and use of the Nu-foot feed supplement since its original formulation. To the best of my knowledge this product contains no drugs and no harmful additives when used as labeled. The levels of iodine are therapeutic when used as directed and the supplement would need to be grossly over used in order to see any potentially harmful effects.
This is an excellent product and I have no reservations about using it.
Sincerely,
Jonathan L. Cohen, DVM
---
Dear Mr. Peacock,
Please accept my appreciation for the Nu-Foot products that you sent to me. As per our telephone conversation, I am using it on the advice of the farrier at the Cornell State Veterinary College since September, 1996. I am very pleased with the results and the continued effectiveness in treating my horse's white line disease.
The problem was first noted by my farrier in DEC 95 and he did the "traditional" thing of cutting away the hoof wall and exposing the affected area. Unfortunately for me, it was the end of any attempt to continue riding until the wall had re-grown. I have no indoor outdoor ring and the soil is clay so it's either sucking mud or concrete. There wasn't enough wall area left to hold a shoe so my horse was barefoot until early June.
The shoes were put on and all was well until early September 1996 and the white line had returned, same hind foot, same area. I said "no more cutting" and took my horse to the Vet College farrier. He removed the offending tissue from under the wall, leaving the wall intact. He soaked the foot in Clean Tracks, replaced the shoe after using Fungidye, sealed the nail holes and told me to start my horse on Nu-Foot Hoof Concentrate.
I obtained the product through my local veterinarian and followed the feeding instructions. The return trip to the farrier in October showed marked improvement in the re-growth of tissue. InDecember, the farrier said that there was no further need to return to him and that my local farrier could resume services. The healing continued to be very evident. My horse was shoed yesterday (February 24) and I am very pleased with the progress made in resolving the white line problem. There is still some separation noted but it is minimal by comparison to what was found in SEPT.
The important aspects of treating with Nu-Foot products to me are;
• No need to cut away the hoof wall to provide treatment, thusthere is no need to interrupt training
• No need to have special shoes or boots to accomadate hoof wall resection
• The treatment is not labor-intensive or time consuming (This would be of special importance if I had several horses to treat.)
• Anyone who can feed a horse can treat a horse for white line with this product (Important point for horsemen who have to rely on barn helpers if the horsemen have to travel.)
• The cost of treatment is not prohibitive. (I look at it as an investment in the treatment of present disease and the inhibition of disease in the unaffected hoof walls.)
This "adventure" into the world of white line disease has been an educational one for me. I have been involved in horses since I was 8 years old (pleasure, 4-H, hunter/jurnper, race track) and have never seen this condition. I know that the resolution of this disease is a long process. Nu-foot , in my opinion, has greatly improved the quality of life that I and my horse share while the healing occurs.
Thank you for the opportunity to be part of the market for your product. My horse, who is also my best friend, and I are truly grateful for your "personal touch" in dealing with this problem.
On a personal note, I was able to take my horse to a stable in October 1996 for training and he was in his first horse show over fences. He was 1 point from the Reserve Baby Green Ribbon— we never would have had this chance if his hoof wall had been resected in September
Thanks so much.
---
November 16, 1996
Dear Gentleman:
I am writing to let you know how much my farrier and myself love your product.
I purchased a gray quarter horse "Milky" two years ago. This was the horse of my dreams. Since I was a teenager, I have always wanted to show with the best of them. My first purchase was at the age of 32 but that was a rash purchase. So my husband and I invested the right monies and wanted to proceed forward. But all I did at that time was go backwards. We suffered with white line disease, shelly hooves, and a severe case of fungus. I used iodine, fungicide and anything else I could find. This weather in Georgia does not always cooperate with a medication schedule. My farrier tried heart bar shoes and anything else we could come up with to keep my horse sound. Since that purchase of "Milky", I sincerely regretted my decision. I purchase a lot of HB 15 and Source to no avail. I felt my horse would never stay sound or keep shoes on again. You see my farrier was at my house more than he was at his.
After almost one year and six months I found your product. I have been using Nu-foot concentrate for 6 months and can not believe the results. When first reading about your product in the Jeffers catalog, I felt that anything at this point was worth a try. I'm proud to say that the last shoeing went for a total of 9 weeks and we trimmed a little more than 1/4 inch from his existing hoof. This was amazing. My farrier still can not believe the difference. "Milky" is even to the point that he does not fight the shoeing process due to soreness. My farrier will be suggesting your product to others.
I wish I had found your product about 2 years ago and we would be further along. We are now getting ready for the trainer and a new show season. This year we will get through the whole season thanks to your product.
---
June 22, 1997
Dear Mr. Peacock ,
Thank you for talking to me about your product, NuFoot, and for sending me the information on hoof care. Please excuse me for the delay in corresponding to you. I am in the process of developing a full-time equine business.
As I told you on the phone, I am sold on your supplement, NuFoot. The results I have received from its use are far superior to any product I tried prior. Having a mare with very bad hooves, I have tried at least six or seven of the top line hoof supplements on the market. NuFoot had produced, by far, the best results. At one point, I was considering putting this mare down due to continual pain she endured from the condition of her front hoof. Now, thanks to surgery (cutting the tendons) and NuFoot, she now has a normal hoof and a better quality of life (even her attitude has changed). I have included pictures to attest to her condition. She is a brood mare who seldom gets groomed, but keeps a beautifully conditioned coat with NuFoot. With the improved hoof condition, she now enjoys running in the pasture, which she was not able to do before.
Another benefit of your product that I have seen in one of my gelding is a better tolerance to skin irritations. He used to be very susceptible to skin fungus, etc. particularly in the hot summer months; but now, on NuFoot, has kept a beautiful coat, with little of no skin irritation/fungus. I originally started this gelding on NuFoot, just because of the very noticeable difference between his coat and the mare on NuFoot.
NuFoot is definitely an important part of my feeding program. I appreciate how your product has helped in the maintenance of my horses.
Sincerely
Sue
Sarasota Florida
P.S. I have also used Fungidye with hoof injuries as a preventative from fungus infection and have had great results.